Pricing
Form builder plans for small business to large enterprise
Secure, enterprise form builder. Trusted by over 4,000 organizations worldwide.
* reflects annual payment over 12 months
What Customers Are Saying
Hear from clients who have leveraged FormAssembly at their organizations to create online forms for business, healthcare, nonprofit, financial services and other industries.
"FormAssembly is a very high-utility solution for us because it's plug-and-play. It would take us a significant amount of dev effort to build internally in Amazon, and we'd also spend a good amount of bandwidth maintaining that tool. With FormAssembly, you can just log in to Salesforce and create whatever forms you need."
—Abhinav Singh Kakran, Manager, Program Management, Amazon
"FormAssembly is a top-tier platform that's easy to scale, cost-effective for clients, and doesn't involve a developer to maintain. Couple all of that with some of the best support and internal team I've ever seen and you'll never need to look anywhere else!"
—Jeff Kimble, Manager, Lead Salesforce Architect, Deloitte Digital
"I build with dozens of web based programs including other online form tools. I'm working to migrate all my form efforts to FormAssembly because they are far superior in every way. I have complete control over the data that gets put into our Salesforce instance, and FormAssembly has the best support I've received from any web based program."
—Jared Lettau, IT Support Tier 2, Zillow
Create. Collect. Connect.
What our enterprise form builder has to offer:
Create…
Online forms for business needs with our easy-to-use form builder featuring drag-and-drop functionality and modern themes. Make forms as simple or as complex as your use case requires.
Collect…
Data for any purpose, using responsive web-based forms. Or, collect with our mobile app for iOS, with or without and internet connection. Collect PHI with HIPAA-compliant Compliance Cloud forms.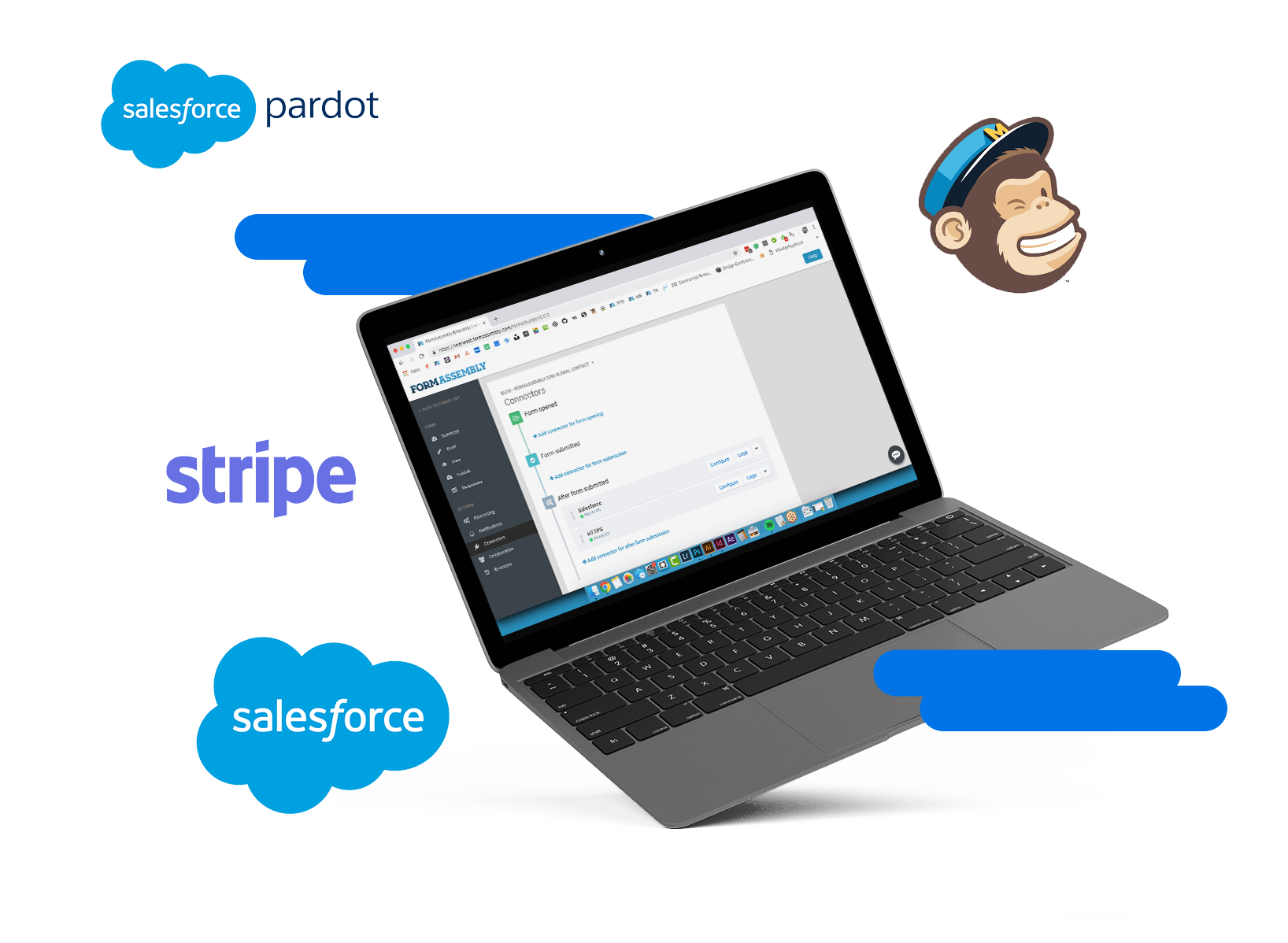 Connect…
Forms with Salesforce, Mailchimp, Stripe, Pardot, and a host of other common solutions you use in your business every day. Our integrations help you streamline processes and get more out of your data.
Professional

Premier

Enterprise Cloud

Compliance Cloud

All plans allow you to create unlimited forms and receive unlimited responses.

Users
1
1
Starts at 3
Starts at 3

Professional and Premier plans each include integration with one Salesforce org, whereas Enterprise and Compliance Cloud plans include the ability to connect to three orgs. Enterprise and Compliance Cloud users can purchase additional org connections for $500/year each.

Salesforce Org Connections
1
1
3
3

All plans offer friendly, awesome support via email or live chat!

Friendly Support

Our mobile app enables offline data collection from virtually anywhere. Available in iOS and Android app stores.

Mobile Apps

Create or update data for standard and custom objects in Salesforce.

Salesforce Integration

Read and manage submitted responses in your web browser. Charts are automatically created for multiple-choice questions, making survey reports a breeze.

Reports & Charts

Secure your forms with industry standard TLS 1.2 encryption, ensuring the confidentiality of your data as it transits to our servers.

Secure Forms (TLS)

All plans are PCI DSS Level 1 certified.

PCI DSS Level 1 Certification

Additional levels of security for your most sensitive data.

Encryption at Rest

FormAssembly is compliant with the GDPR, a regulation that deals with data privacy in the EU.

GDPR Compliance

All FormAssembly forms are compliant with FERPA (Family Educational Rights and Privacy Act), a U.S. federal law that protects the privacy of student education records.

FERPA Compliance

Your forms are automatically Section 508 compliant, designed to be accessible with assistive technology, so anyone can use your web forms.

Section 508 Compliance

Export your data to Microsoft Excel, Access, and more using the CSV and XML file format.

Export to Excel, XML

Receive a customized email each time a response is submitted. You can also set multiple addresses to receive a customized email. Formulas can be used to personalize and route your emails dynamically based on submitted data.

Email Notifications

Automatically send a customized email to the person who submitted a response.Formulas can be used to personalize the email.

Auto-Responders

Respondents can attach files to their responses, up to 20MB per form submission. With the Enterprise and Compliance plans, respondents can upload up to 38MB per submission.

File Attachments

Prevent automated submissions from spam bots using CAPTCHAs. A CAPTCHA is a distorted picture that must be identified. This test can easily be done by humans, but not by bots. The Enterprise Plan offers another powerful way to fight spam with the Akismet spam filter.

Spam Protection

Collect credit card payments with Stripe.

Stripe Integration

Create order forms and collect payments with PayPal and iATS, or send out invoices and manage subscriptions with FreshBooks Classic.

PayPal, FreshBooks Classic, iATS Integrations

Collect one-time and recurring credit card payments with Chargent, and connect your transactions to Salesforce.

Chargent Integration

An Excel-like formula engine allows you to use logic in your form configuration settings. Dynamically compute redirection URLs, select email recipients, and more, based on submitted data. If you're familiar with Microsoft Excel's formulas, you'll master this feature in a flash.

Dynamic Form Settings

Extend the capability of FormAssembly with custom-developed applications using our API.

API

Quickly and easily style your FormAssembly forms without leaving the Form Builder.

Theme Editor 2.0

Send FormAssembly responses to your Google Spreadsheets. Embed forms in Google Sites.

Google Integrations

Improve the user experience by prefilling forms with information from Salesforce.

Salesforce Prefill

Collect direct and recurring credit card payments with Authorize.Net and CyberSource.

Authorize.Net, CyberSource Integrations

Capture electronic signatures for contracts, policies, waivers, and more.

E-Signatures

Pull and send data automatically to Salesforce Marketing Cloud.

Salesforce Marketing Cloud Integration

Start off on the right foot with a FormAssembly's thorough onboarding service.

Personalized Onboarding
Welcome Call
Implementation Program

Add multiple users to your FormAssembly account and streamline processes with SSO.

Multi-user, with single-sign-on (SSO)

FormAssembly makes it possible to meet data residency requirements in these three continents.

Data Residency in N. America, Europe, Asia-Pacific.

Authenticate your respondents through integrations with Salesforce Experience Cloud, LDAP/Active Directory, CAS, and SAML.

Authenticate Respondents (SSO)

Full control over multiple users, who can create forms independently and collaboratively. Administrators can fine-tune permissions and review forms for compliance with your organization's policies and best practices, and manage a dedicated template library and list of form themes.

Manage Users, Forms, and Templates

Our recently updated Salesforce Dynamic Picklists feature allows users to build forms with drop-down menus that pull options directly from Salesforce picklists or lookup results. Configurable in the Form Builder, this feature includes live lookup, multi-field mapping, and controllable sort order. This feature also works with Save & Resume and the ability to edit and resubmit a response.

Salesforce Dynamic Picklists

Phone support escalation and one-hour initial response times guaranteed by email or chat, 24/5.

Priority Support
(add-on)

FormAssembly provides HIPAA compliance and business associate agreements for Compliance Cloud customers.

HIPAA Compliance & BAA

Compliance with GLBA and other financial regulations, such as the NYDFS Cybersecurity Regulation.

GLBA Compliance

Compliance Cloud includes increased security and privacy controls for the most sensitive data. Once identified, sensitive data is redacted by default to avoid accidental exposure through insecure emails or downloaded reports.

Advanced Security and Privacy Controls

FormAssembly enters into a Service Level Agreement with each Compliance Cloud plan.

Service Level Agreement (SLA)

We offer a yearly data security review to Compliance Cloud customers to make sure the highest standards of security are met.

Annual Security Review (upon request)
Do you work in government? Learn more about our FedRAMP Ready Government Cloud offering.